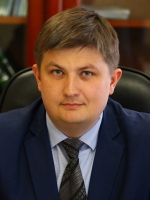 Dear friends, I am glad to welcome you on the website of Bratsk State University, one of the leading institutions of higher education in Irkutsk region!
The university has a rich history, nice traditions, teachers devoted to science and education, achievements which we are constantly increasing. For more than half a century of the existence the university has deserved a reputation and a rank of the northern outpost of science and education of Irkutsk Region. Justifying the status of classical university we try to give students the universal, up-to-date knowledge, to prepare them for successful activity in new competitive environment.
The multilevel system of training, a large number of educational programs provide a wide range of specialist training. At the same time the institution of higher education continues to hold a high level of education quality. The results of participation in the Federal Internet Examination confirm the compliance of contents and qualities of training of BrSU graduates with the requirements of the State Educational Standards
The structure of the university complex includes Pulp-and-Paper College and Pedagogical College, the branch in Ust-Ilimsk and eight representations on the territory of Irkutsk Region, Buryatia and Krasnoyarsk Krai. Today more than 7 thousand students are trained here on the budgetary and fee-paying commercial basis.
The University training always had innovative character: the development of new materials and technologies, testing of modern cars, mechanisms and equipment had been conducted in its walls. In the last decade it has become especially intensive; the latest information technologies are being used actively, the educational process is provided by more than 102 laboratories and three laboratory modules. More than 40 computer classes have been united into a local network and have Internet connection.
Bratsk State University has high intellectual potential. The productivity of our researches are confirmed by the awards received by the scientists at the Russian and international exhibitions. Our students are active participants of many developments as well. Effective work on the strengthening relationship with foreign institutions of higher education and scientific organizations is carried out by the university administration
The university material and technical maintenance is constantly modernized, buildings are reconstructed, laboratories and educational audiences are updated. For the achievements in the social sphere the University has become the winner of the All-Russian competition "Russian Organization of High Social Efficiency» for three times.
The best conditions are created not only for vocational training, but also for harmonious development of personality. Educational work with students is constantly being improved. Comfortable living conditions are provided and safety is guaranteed. Life of student's community is full with various bright events and creativity.
Stability of the university development is the result of the management competent policy in realization of actions for social support of students and university staff, providing the availability of education for most of young people.
I.S. Sitov
Rector of BrSU
---
Contact information:
Tutor of foreign trainees - Kudashkin Vyacheslav Alexandrovich

Address: Bratsk State University, 40 Makarenko St, auditorium 2409, Bratsk, Irkutsk region, the Russian Federation, 665709.

Ph.:+7-(3953)-32-54-93; Fax:+7-(3953)-33-20-08

E-mail: Этот адрес электронной почты защищён от спам-ботов. У вас должен быть включен JavaScript для просмотра.